When your car needs body work, it can be tricky to know where to take it. You want to find a shop that will do a good job, but you also don't want to overpay. To help you out, we've put together a list of things to look for when choosing an auto body repair shop.
Licensing and Certification
The first thing to look for when choosing an auto body shop is whether or not they are licensed and certified. This is important because it means that the shop has met certain standards set by the government or industry associations. It also means that they have the proper skills and experience to render quality services. You can usually find this information on the shop's website or by asking them directly.
Reputation and Reviews
Another important factor to consider is the shop's reputation and reviews. Auto body shops with a good reputation of quality service are more likely to do a good job on your car. There are various ways you can find out about a shop's reputation. You can ask friends or family members who have had work done recently, read online google reviews from past customers, or even check with the Better Business Bureau. Ideally, you want to find a repair shop with mostly positive reviews and a good reputation.
Experience
When it comes to most auto body shops, experience is always a good thing. A shop that has been in business for many years is more likely to have the skills and knowledge necessary to do a good job on your car. However, this doesn't mean that newer shops are necessarily inferior. Some of them may have highly skilled technicians who are just as good as the more experienced ones. It's important to do your research and make sure that the auto body repair shop you choose has the experience necessary to meet your needs.
Price
Of course, you also want to consider the price of the services you need. When getting quotes from different shops, be sure to ask about all fees and charges upfront. This way, you can compare apples to apples and get the best deal possible. Keep in mind that the lowest price isn't always the best deal. You also want to make sure that the auto collision repair shop is reputable and will do a good job on your car.
Insurance
Another thing you'll want to consider is whether or not the shop accepts your insurance. This is important because it will affect how much you have to pay out of pocket. If the shop does not accept your insurance, you'll likely have to pay the full cost of the repairs. However, even if the auto body repair shop does accept your insurance company, there may be some fees that you're responsible for. Be sure to ask about this before having any work done.
Highly Trained Technicians
Something else you might want to look for is an auto body repair shop that employs highly trained technicians. This is important because it means that the people working on your car have the proper skills and experience. You can usually find out about a technician's training by asking the shop or checking their website. Also, ensure that the technicians are certified by the National Institute for Automotive Service Excellence (ASE).
Location
For a convenient experience, you might want to choose a shop that's located close to your home or office. This way, you won't have to go out of your way to drop off or pick up your car. Furthermore, a shop that's close by is more likely to offer quick turnaround times.
Warranties and Guarantees
Finally, you'll want to inquire about any warranties or guarantees that the shop offers. This is important because it gives you peace of mind knowing that the work will be done right and that you're covered if something goes wrong. Most reputable shops offer some type of warranty or guarantee, so this should not be a deal-breaker.
Remember to Do Your Research
Once you've narrowed down your options, take the time to do some research on each auto repair shop. Check their website, read reviews, and give them a call to ask any questions you have.
Contact the Experts!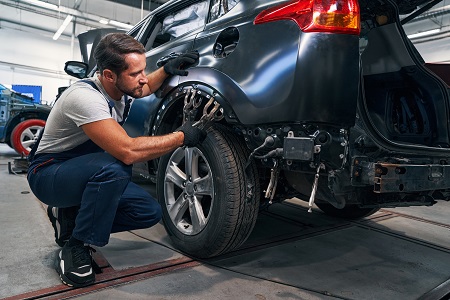 If you're looking for an auto body shop to fix your damaged vehicle, come to Bacon Collision. Our team of technicians are highly trained and certified, so you can be confident that your car is in good hands. We offer a variety of auto body shop repairs in Vancouver WA, including auto body repair, paintless dent repair, and more. Contact us today to schedule a free estimate!
Here are the related services we offer:
Damage repair
Paint repair
Collision repair services
Auto body repair services