Looking for a Reputable
Auto Body Shop Near Salmon Creek
?
Well, you don't have to look far for excellent customer service and top-notch auto body repair. Bacon Collision specializes in complete collision repairs of all makes and models of damaged vehicles, from dent repair to paint jobs. Nothing compares with the peace of mind that comes with vehicle repair at Bacon Collision.
Quality Repair and Customer Care During the Entire Process
We understand the stress that follows a collision. That's why we focus so much on customer service and ensuring that you are informed of the repair process, every step of the way. We work with any insurance company to ensure that you get the best auto repair possible. We also offer auto body repair to customers who need to pay out-of-pocket. We make every effort to turn a difficult experience into a stress-free one. We will ensure that you receive the best repair services for your vehicle and explain exactly how our body shop can get you back on the road safely.
Salmon Creek Auto Body Repair
You Can Trust
We know that you want a positive experience when you shop for collision repair services. That's why we focus so much on you as our customer. From your insurance claim to final auto detailing for your vehicle, Bacon Collision provides quality service, including:
Towing Services
We can arrange to have your vehicle towed to our collision repair facility.
Insurance Claims
We work with all insurance companies and help walk you through the process.
Rental Vehicles
We can help you navigate renting a vehicle through a local rental car agency, including dropping you off and picking you up.
Framework
If your vehicle requires structural repairs or framework, our auto body shop can handle it. The repair technicians at Bacon Collision are professionally trained. We perform all of our repairs to the highest standards in the business.
Bodywork
Our body technicians are the best in the industry. From dent removal to more detailed auto body repair services, we can have your vehicle looking like new and back to its pre loss condition.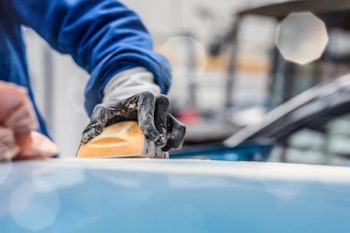 Auto Painting
Our auto painters have unparalleled color match and refinishing skills. At Bacon Collision, we pay attention to all the details.
Auto Glass Service
If any of your vehicle's auto glass is damaged, we can perform professional glass replacement services.
---
Bacon Collision: Family Owned and Operated
Bacon Collision's focus is on premium customer service. We work with all insurance companies or customers who need to pay out-of-pocket. We are family-owned and maintain a great working environment to get you the auto repairs you need with service you'll trust. Contact us today for a free estimate!